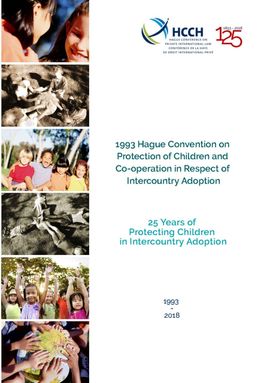 Brochure celebrating the 25th Anniversary of the 1993 Hague Intercountry Adoption Convention
Contents of the brochure:
Foreword
Testimonies
Why this Convention?
The 1993 Hague Convention in a nutshell
States Parties & signatories as of 29 May 2018
Numbers of States Parties to the 1993 Hague Convention over the past 25 years
25 years of the 1993 Hague Convention: Main achievements and remaining challenges
25 rights & principles (at least) in Intercountry Adoption celebrating 25 Years
Principal features of the 1993 Hague Convention and implementation assisting tools
Information about latest developments
Working with States to implement the 1993 Hague Convention
Text of the 1993 Hague Convention
This brochure is available in English, French and Spanish.
The Catalogue of HCCH publications and order form are available here.
Conventions (incl. Protocols and Principles)