Singapore accedes to the Service Convention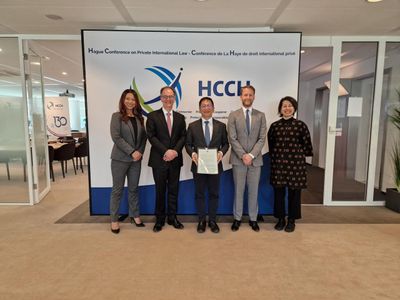 Today, 16 May 2023, the Republic of Singapore deposited its instrument of accession to the Convention of 15 November 1965 on the Service Abroad of Judicial and Extrajudicial Documents in Civil or Commercial Matters (1965 Service Convention).
With the accession of Singapore, the 1965 Service Convention now has 81 Contracting Parties. It will enter into force for Singapore on 1 December 2023 subject to the Article 28 procedure. More information on this Convention is available on the Service Section of the HCCH website.
At the ceremony, which was held at the premises of the Permanent Bureau in The Hague, Singapore was represented by H.E. Mr Lim Hong Huai, Ambassador of the Republic of Singapore to the Kingdom of the Netherlands, and Ms Davinia Aziz, Minister-Counsellor of the Republic of Singapore. The Ministry of Foreign Affairs of the Netherlands, depositary of the HCCH Conventions, was represented by Mr Rieks Boekholt, Legal Officer at the Treaties Division, while the Permanent Bureau of the HCCH was represented by Dr Christophe Bernasconi, Secretary General and Dr Gérardine Goh Escolar, Deputy Secretary General.
Singapore has been a Member of the HCCH since 2014 and is now a Contracting Party to five HCCH Conventions.
---