Regional Conference – "The HCCH and the Relevance of its Work for Southern Africa"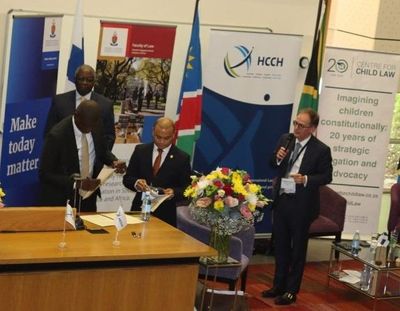 On 7 and 8 February 2023, the Permanent Bureau of the HCCH has the pleasure of co-organising the Regional Conference "The HCCH and the relevance of its work for Southern Africa", together with Finland and South Africa, with the participation of Namibia and Tanzania, as well as other Southern African Development Community (SADC) States, and hosted by the University of Pretoria (South Africa).
The Regional Conference commenced today with opening remarks on behalf of the University of Pretoria by Prof. Dire Tladi, Professor of International Law. The conference's first session opened with a presentation by Dr Christophe Bernasconi, Secretary General of the HCCH, on "The HCCH: Benefits of Membership and Key Conventions", followed by a panel discussion on the importance of multilateral international cooperation. The panel discussion, moderated by Dr Bernasconi, featured the participation of H.E. Mr Ronald Lamola, Minister of Justice and Correctional Services of South Africa, Mr Antti Leinonen, Director General of the Ministry of Justice of Finland, H.E. Mr Veiccoh K Nghiwete, High Commissioner of the Embassy of Namibia in South Africa, and Mr Lennon Limbo, Chief Legal Services of the Ministry of Justice of Namibia. The panellists shared their perspectives on the current state of multilateral cooperation in the region and discussed, in this context, their respective States' experiences and views on the benefits, challenges, and future prospects for Southern Africa's further engagement with the HCCH, including as Members, and with the HCCH Conventions and instruments.
Upon conclusion of the panel discussion, representatives of South Africa, Finland, and Namibia adopted a joint statement encouraging all States, in particular those throughout Southern Africa, to join the HCCH as Members and to consider becoming Party to HCCH Conventions and instruments. They also committed, among other, to promoting the visibility of the HCCH and to exploring opportunities for further cooperation. The government of Tanzania has expressed its intention to sign the Joint Statement in the near future.
Throughout the remainder of the Regional Conference, participants will have the opportunity to attend specialised session on some of the most prominent HCCH Conventions and instruments, featuring experts from across the Southern African region.
---