The Philippines ratifies the Child Support Convention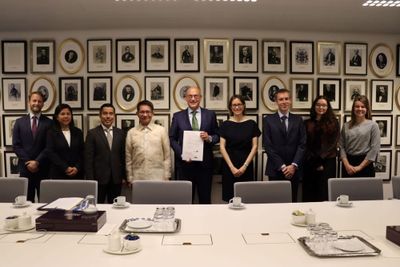 Today, 22 June 2022, the Republic of the Philippines deposited its instrument of ratification of the Convention of 23 November 2007 on the International Recovery of Child Support and Other Forms of Family Maintenance (Child Support Convention).
The ceremony was held at the Ministry of Foreign Affairs of the Netherlands, the Depositary of the HCCH Conventions. The Philippines was represented by H.E. Mr J. Eduardo Malaya, Ambassador of the Republic of the Philippines to the Netherlands, Mr Jarie R. Osias, First Secretary and Consul, Ms Marianne I. Bringas, Third Secretary and Vice Consul, and Ms Kieren Roevi A. Batiles, Information Officer. The Depositary was represented by Mr Jules van Eijndhoven, Head of the Treaties Division, Mr Rieks Boekholt, Legal Officer, and Ms Annelou Aartsen, Policy Officer, while the Permanent Bureau of the HCCH was represented by Ms Laura Martínez-Mora, Secretary, Mr Jean-Marc Pellet, iSupport Coordinator, and Ms Nietta Keane, Assistant Legal Officer.
With this ratification, 44 States and the European Union are now bound by the Child Support Convention. It will enter into force for the Philippines on 1 October 2022. More information is available on the Child Support Section of the HCCH website.
The Republic of the Philippines has been a Member of the HCCH since 2010 and is now a Contracting Party to five HCCH Conventions.
---