Vice President of the Republic of El Salvador visits the Permanent Bureau of the HCCH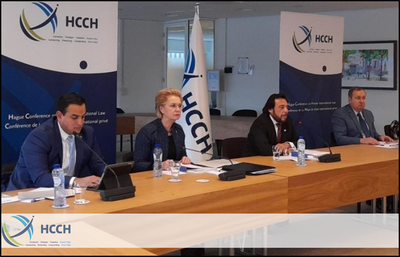 On 22 October 2021, the Permanent Bureau of the HCCH had the honour of welcoming H.E. Mr Felix Ulloa, Vice President of the Republic of El Salvador, to its premises in The Hague.
Vice President Ulloa was accompanied by H.E. Ms Carmen Maria Gallardo, Ambassador of El Salvador to the Netherlands; Mr Héctor Enrique Celarié Landaverde, Deputy Head of Mission at the Embassy of El Salvador to the Netherlands; Mr Armando Otero, Advisor to the Vice President; and Ms Yuli Argueta, Protocol Officer in the Office of the Vice President. The Permanent Bureau of the HCCH was represented by Dr Christophe Bernasconi, Secretary General, who attended via videoconference, as well as Ms Laura Martínez-Mora, Secretary, and Mr Brody Warren, Attaché to the Secretary General.
The visit provided the opportunity to discuss the finalisation of El Salvador's membership, following the recent conclusion of the six-month voting period in which the majority of votes cast by HCCH Members was in favour of the admission of El Salvador as a Member of the HCCH. Representatives of El Salvador and of the Permanent Bureau also had a constructive dialogue on the strategic priorities and work programme of the HCCH, as well as other areas of mutual interest, with a view to expanding El Salvador's participation in the work of the Organisation.
El Salvador has been an HCCH Connected Party since 1995, when it joined the Apostille Convention; since then, El Salvador has also become a Contracting Party to the Adoption and Child Abduction Conventions. The Permanent Bureau looks forward to working with the authorities of El Salvador in further strengthening global cross-border legal cooperation through the work of the HCCH.
---