Honduras becomes 90th Member of the HCCH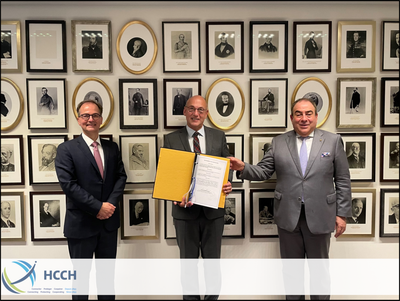 Today, 9 September 2021, the HCCH reached another milestone when the Republic of Honduras deposited its instrument of acceptance of the Statute, thus becoming its 90th Member.
The membership ceremony, which took place at the Ministry of Foreign Affairs of the Netherlands, was attended by H.E. Mr Roberto Ochoa Madrid, Ambassador, and Mr Eduardo Cano, First Secretary, from the Embassy of Honduras, and Mr Jules van Eijndhoven, Head of the Treaties Division, and Mr Rieks Boekholt, Legal Officer, on behalf of the depositary. The Permanent Bureau of the HCCH was represented by Dr Christophe Bernasconi, Secretary General, and Ms Nicole Sims, Legal Officer.
Honduras has been an HCCH Connected State since 1993 and is currently a Contracting Party to five HCCH Conventions (Abduction, Apostille, Child Support, Child Protection and Adoption).
The Permanent Bureau is pleased to welcome Honduras as a new HCCH Member and is looking forward to assisting the authorities of Honduras in further strengthening global cross-border legal cooperation through the work of the HCCH.
---