New Zealand signs the HCCH 2007 Child Support Convention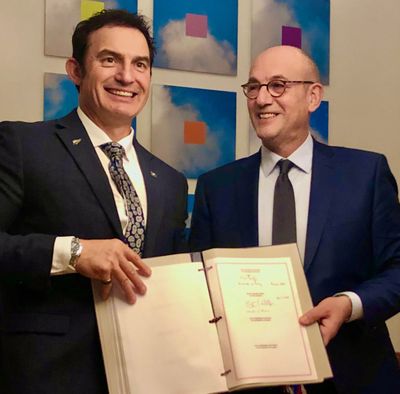 On 26 November 2019, New Zealand signed the HCCH Convention of 23 November 2007 on the International Recovery of Child Support and Other Forms of Family Maintenance (Child Support Convention).
The next step for the Child Support Convention to enter into force in New Zealand is ratification, pursuant to Arts 58 and 60. More information on the Convention, which currently binds 41 parties, is available on the Child Support section of the HCCH website.
The signing ceremony, which took place at the residence of the Ambassador of New Zealand to the Netherlands, was attended by The Honourable Stuart Nash MP, Minister for Revenue, H.E. Ms Lyndal Walker, Ambassador of New Zealand to the Netherlands, Ms Barbara Edmonds, Ministerial Adviser and Mr Paul Vinkenvleugel, Policy Adviser at the Embassy of New Zealand. On behalf of the Depositary, Mr Jules van Eijndhoven, Head of the Treaties Division, and Mr Rieks Boekholt, Legal Officer, attended the ceremony. The Permanent Bureau of the HCCH was represented by Ms Laura Martinez-Mora, Secretary, and Mr Thomas John, Attaché to the Secretary General and Principal Legal Officer.
New Zealand is a Contracting Party to 3 HCCH Conventions, including two other HCCH Child Conventions. It has been a Member of the HCCH since 2002 and is the first State to sign the Child Support Convention in the Asia Pacific region.
---