Austria signs the HCCH Service Convention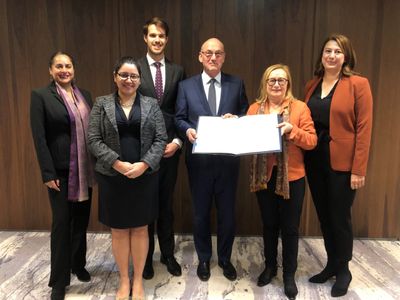 On 22 November 2019, Austria signed the HCCH Convention of 15 November 1965 on the Service Abroad of Judicial and Extrajudicial Documents in Civil or Commercial Matters (Service Convention).
The Service Convention, which currently has 75 Contracting Parties, will enter into force for Austria only after it has formally ratified the Convention (pursuant to Arts 26 and 27). More information is available on the Service Section of the HCCH website.
The signing ceremony, which took place at the Ministry of Foreign Affairs of the Netherlands (i.e. the Depositary), was attended by H.E. Ms Heidemaria Guerer, Ambassador of Austria and Legal Officer Ms Katharina Kofler on behalf of the Embassy of Austria. On behalf of the Depositary, Head of the Treaties Division Mr Jules van Eijndhoven and Legal Officer Mr Rieks Boekholt, as well as Ms Sunita Verlinde of the Europe Directorate, also attended the ceremony. Legal Officers Mr Brody Warren and Ms Elizabeth Zorrilla represented the Permanent Bureau of the HCCH.
Austria has been a Member of the HCCH since July 1955 and is currently bound by 13 HCCH Conventions and one HCCH Protocol.
---