King Willem-Alexander joins HCCH for 125th Anniversary Celebrations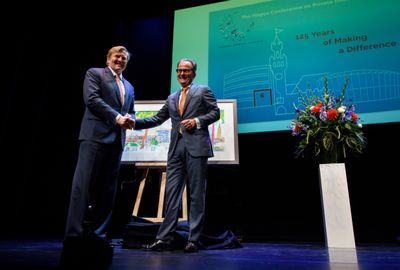 On Wednesday 12 September, His Majesty King Willem-Alexander of the Netherlands joined the HCCH for a commemorative ceremony to celebrate its 125th anniversary year at Diligentia theatre in The Hague.
Since its establishment in 1893, the Hague Conference has successfully built bridges between diverse legal systems and facilitate cross-border co-operation in civil and commercial matters. By developing and administering multilateral treaties, i.e., the Hague Conventions, the Hague Conference has become the leading global organisation focused on the use of private international law as a means to address cross-border relationships between individuals and companies. As the first international organisation in The Hague, its creation helped establish The Hague as the International City for Peace and Justice.
The programme featured addresses by H.E. Mr Sander Dekker, Minister for Legal Protection of the Netherlands, Dr. Christophe Bernasconi, Secretary General of the HCCH, H.E. Mrs Pauline Krikke, Mayor of The Hague, Prof. Paul Vlas, Chair of the Standing Government Committee, and Mr Andrew Walter, Chair of the Council on General Affairs and Policy of the HCCH.
The speeches highlighted the history and importance of the work of the HCCH as well as the benefits it brings to people and commercial operations around the world and underlined the longstanding and strong relationships between the HCCH, the host state of the Netherlands, and host city of The Hague.
The ceremony also featured the launch of a new video illustrating the work of the HCCH, musical performances, and the unveiling of art commissioned for the event.


---