Benin signs and ratifies the 1993 Hague Intercountry Adoption Convention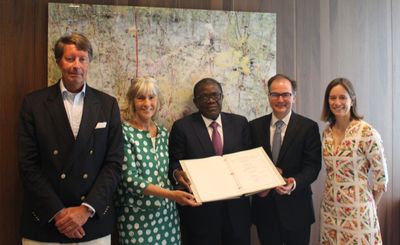 On 28 June 2018, Benin signed and deposited its instrument of ratification to the Hague Convention of 29 May 1993 on the Protection of Children and Co-operation in Respect of Intercountry Adoption. With the signature and ratification of Benin, the 1993 Hague Convention now has 99 Contracting Parties. The Convention will enter into force for Benin on 1 October 2018. 
 
At the ceremony, which took place at the Ministry of Foreign Affairs of the Netherlands (i.e., the Depositary of the Hague Conventions), the Embassy of Benin was represented by H.E. Zacharie Richard Akplogan, Ambassador, accompanied by Mr Robbert Blij, Honorary Consul of Benin in the Netherlands. On behalf of the Depositary, the Head of the Treaties Division, Ms Coos 't Hoen, and Senior Legal Officer, Mr Mark Groen, attended the ceremony. Secretary General Christophe Bernasconi and Principal Legal Officer Laura Martínez-Mora represented the Permanent Bureau of the Hague Conference on Private International Law.  
 
The 1993 Hague Convention is the first Hague Convention to which Benin has become a Party. Benin's ratification thus increases the number of States connected to the Hague Conference on Private International Law to 151. 
 
More information is available on the Adoption Section of the Hague Conference website. 
---