Guatemala joins the Hague Apostille Convention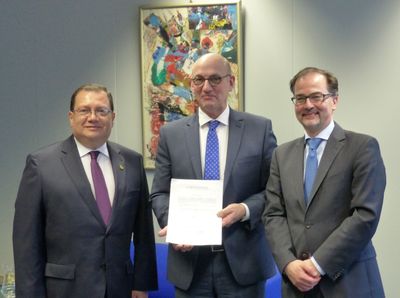 On 19 January 2017, the Republic of Guatemala deposited its instrument of accession to the Hague Convention of 5 October 1961 Abolishing the Requirement of Legalisation for Foreign Public Documents (the "Apostille Convention"), making it the 113th Contracting State to the Convention. Following the usual procedural steps, the Convention will enter into force for Guatemala on 18 September 2017.
At the ceremony, which took place at the Ministry of Foreign Affairs of the Netherlands (i.e. the Depositary), H.E. Mr Luis Raúl Estévez López, Ambassador of the Republic of Guatemala, and Ms Celeste Marinelli Block, Counsellor, represented the Embassy of Guatemala. On behalf of the Depositary, Head of the Publication, Treaties Division, Mr Jules van Eijndhoven and Senior Legal Officer Mr Mark Groen also attended the ceremony. Secretary General Mr Christophe Bernasconi and Principal Legal Officer Ms Mayela Celis represented the Permanent Bureau of the Hague Conference on Private International Law (HCCH).
While not a Member State of the Hague Conference, the Republic of Guatemala is now a Contracting State to three Hague Conventions, the other two being the Convention of 25 October 1980 on the Civil Aspects of International Child Abduction and the Convention of 29 May 1993 on Protection of Children and Co-operation in Respect of Intercountry Adoption.
Pursuant to Article 12 of the Apostille Convention the Depositary shall give notice to the Contracting States of the accession of Guatemala.
---