Latvia signs the 2000 Hague Protection of Adults Convention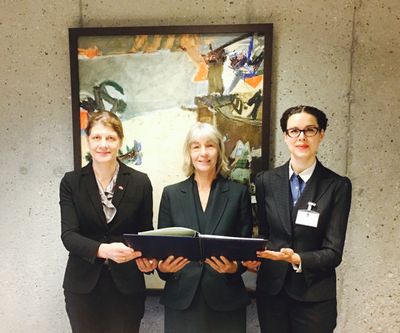 On Thursday 15 December 2016, Latvia signed the Hague Convention of 13 January 2000 on International Protection of Adults. The Convention is anticipated to be ratified by Latvia in 2017. Latvia is currently a Contracting State to 12 Conventions and one Protocol of the Hague Conference on Private International Law.
At the ceremony, which took place at the Ministry of Foreign Affairs of the Netherlands, the Embassy of Latvia was represented by H.E. Mrs. Ilze Rūse, Ambassador to the Kingdom of the Netherlands. The Ministry of Foreign Affairs of the Netherlands was represented by Ms Coos 't Hoen, Head of the Treaties Division, and Mr Mark Groen, Senior Legal Officer, Treaties Division. Senior Legal Officer Maja Groff represented the Permanent Bureau of the Hague Conference.
---