Norway signs and deposits its instrument of ratification to the 1996 Hague Convention on the Protection of Children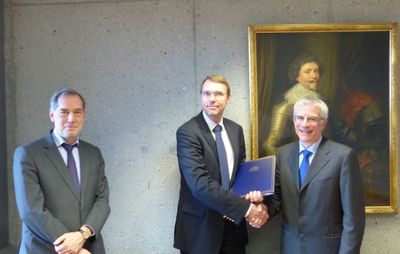 On Wednesday 30 March 2016, Norway signed and deposited its instrument of ratification to the Hague Convention of 19 October 1996 on Jurisdiction, Applicable Law, Recognition, Enforcement and Co-operation in Respect of Parental Responsibility and Measures for the Protection of Children and thus became the 44th Contracting State to this Convention. The Convention will enter into force for Norway on 1 July 2016.
Norway, which has been a Member of the Hague Conference since 1955, is now a Contracting State to 14 Hague Conventions.
At the ceremony, which took place at the Ministry of Foreign Affairs of the Netherlands, the Embassy of Norway was represented by Mr Torfinn Arntsen, Chargé d'affaires a.i.. Philippe Lortie, First Secretary, and Frédéric Breger, Legal Officer, represented the Permanent Bureau of the Hague Conference.
---