Report of the Experts' Group on Parentage / Surrogacy now available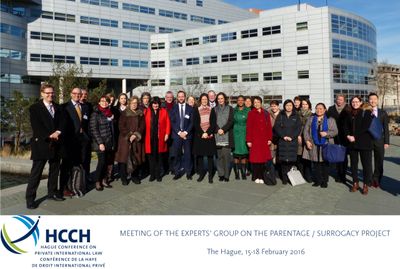 From 15 to 18 February 2016, the Experts' Group on Parentage / Surrogacy met in The Hague. The Group was attended by 21 experts, 3 observers and members of the Permanent Bureau. The experts represented 21 States from all regions, including some States of origin as well as some receiving States in relation to international surrogacy arrangements (ISAs).
The mandate of the Group is to explore the feasibility of advancing work on the private international law issues surrounding the status of children, including issues arising from ISAs. The Group was asked to first consider the private international law rules regarding the legal status of children in cross-border situations, including those born of ISAs.
The full report of the Experts' Group has been circulated in view of the upcoming Council on General Affairs and Policy of the Conference as Preliminary Document No 3 and is available here.
---