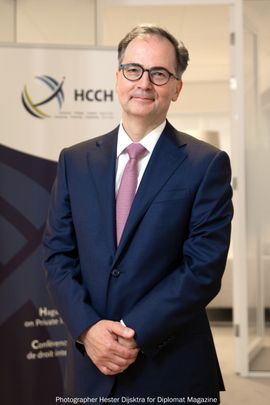 Dr Christophe Bernasconi
Dr Bernasconi took the office of Secretary General of the Hague Conference on Private International Law (HCCH) on 1 July 2013. In 2018, he was reappointed for a further term of five years. Dr Bernasconi had joined the Permanent Bureau (PB) in September 1997 as Secretary, became First Secretary in May 2000, and Deputy Secretary General in July 2011.
He holds a law degree from Fribourg University in Switzerland (magna cum laude; bilingual German and French), an LL.M. degree in comparative law from McGill University in Montreal (Canada) (concentration on International Commercial Law, with a Master's Thesis on oligopolies in unfair competition law), and a doctoral degree in Private International Law from Fribourg University (summa cum laude). He received various academic awards for his doctoral thesis (Der Qualifikationsprozess im Internationalen Privatrecht [the process of characterization in PIL]).
He has been actively involved in numerous normative projects and non-normative activities of the HCCH, covering the full range of its mandate, from transnational litigation and Apostille, to international family and child protection law, as well as commercial and finance law. He designed and administered the electronic Apostille Programme (e-APP). As Secretary General, he is focusing on the good governance and strategic development of the HCCH, spearheading efforts towards its universality and inclusiveness.
Before joining the Permanent Bureau, Dr Bernasconi lectured Private International Law at the University of Fribourg, worked as Legal Expert at the Swiss Institute of Comparative Law in Lausanne, and as Scientific Collaborator at the Federal Office of Justice in Switzerland. He also advised practitioners on various Private International Law matters.
He speaks French, English and German (mother tongue), and has very good passive and good active knowledge of Dutch.
Dr Bernasconi is a Member of the Board of Directors of the International Institute for Justice Excellence (IIJE), a Member of the Advisory Board of the Hague Project Peace and Justice Foundation, as well as an Honorary Fellow of the Australian New Zealand College of Notaries (ANZCN). He was also a Member of the Model Notary Act Revision Committee (USA), which produced the Model Notary Act 2010, published by the National Notary Association (NNA). He is the 2019 recipient of the March Fong Eu Achievement Award of the NNA. He was also a Member of the International Bar Association Capital Markets Forum Subcommittee on Legal Certainty for Intermediated Securities, and was Co-Rapporteur of the International Law Association's former Committee on Transnational Enforcement of Environmental law.