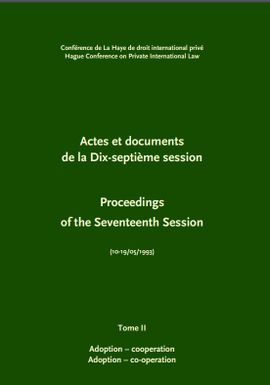 Proceedings of the Seventeenth Session (1993), tome II, Adoption - co-operation
659 p.
€ 126.50

An electronic copy of this publication is available for download here.
Offprint: Explanatory Report by G. Parra-Aranguren
Extract: Report on Intercountry Adoption, by J.H.A. van Loon (Prel. Doc. No 1 of April 1990)
The Catalogue of HCCH publications and order form are available here.
Conventions (incl. Protocols and Principles)