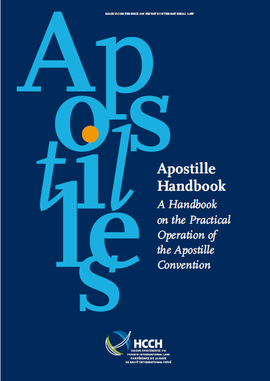 The Apostille Handbook is a comprehensive reference tool that is designed to assist Competent Authorities in performing their functions under the Apostille Convention, as well as address issues that arise in the contemporary operation of the Convention.
The English and French versions of the Apostille Handbook were produced by the Hague Conference on Private International Law.
Translations of the Handbook in the following languages are also available:
German
Courtesy of the German Federal Ministry of Justice and Consumer Protection (in consultation with the Swiss Federal Office of Justice and the Austrian Federal Ministry of Justice).
Greek
Courtesy of the Ministry of Interior and Administrative Reconstruction of the Hellenic Republic.
Portuguese
Courtesy of the Office of the Attorney-General of the Republic of Portugal.
Russian
Courtesy of the Ministry of Justice of the Russian Federation.
Spanish
Courtesy of the Ministry of External Relations of Republic of Peru (revised by the Permanent Bureau).
Vietnamese
Courtesy of the Ministry of Foreign Affairs of the Socialist Republic of Viet Nam and the EU-Viet Nam Strategic Dialogue Facility (European Union).
The Catalogue of HCCH publications and order form are available here.
Conventions (incl. Protocols and Principles)